This beloved community
POSTED ON July 31st, 2017
Paul and I spent Saturday in Rocky Mount at a celebration honoring Allan Gurganus for his inspiring life and literary career.
You learn things around writers. I learned, for example, that the word "allow" has no exact equivalent in other languages. In other languages you'll find the equivalent of "let" or "permit" or "grant," but "allow" has a special quality, a connotation of generosity.
To be allowed to represent you, to speak for you and advocate for your interests, is a privilege. That I've been allowed to do so for three terms on the Chapel Hill Town Council is a testament to your generosity, to your trust in me. Though there's room for disagreement, I believe very strongly that the work the Town Council should be shared, shared generously–that democracy is well served by allowing new voices to bring in new perspectives. Making room for new voices seems to me to be one of the obligations bound up with privilege of serving.
The projects I've worked most passionately to advance are now on solid footing. Here are a few of them:
Support for the homeless. During my first campaign, in 2003, Chris Moran, then director of the Inter-Faith Council, suggested that the Town needed "to have a conversation about homelessness." We had that conversation—the first one was some 300 voices strong—and the outcome was the Orange County Partnership to End Homelessness. If you want to know how this project has evolved, you could come this Friday to the Lunch and Learn held by coordinator Corey Root as she shares what she learned at a recent national conference. This work is in capable hands.
Among the agencies the Partnership works closely with is CEF, which provides an intensive support network for people in crisis-level need of housing, employment, and a financial path forward. It's been great to watch this organization grow from the vision held by Maggie West, when she was an undergraduate engaged in social activism at the UNC Campus Y. The Partnership took a leading role in the movement to "ban the box" so that people with prison records would at least have a chance at a job before falling into homelessness. And the Partnership's successful working model is providing inspiration to the Orange County Food Council. Silos are dissolving!
Affordable housing. Surprising as it seems, a few folks in 2003 suggested I not make affordable housing a platform plank. They thought it could alienate middle-class voters, who would fear "that" kind of housing in their back yards. But I knew Chapel Hillians were more generous than that. After much community discussion, we passed an inclusionary zoning ordinance. And we've continued to revise and strengthen the rest of our inclusionary housing politics, the full complement of which at first targeted ownership: single-family homes, townhomes, and condos. Now I serve on the board of the Community Home Trust, which administers these policies, and I heartily supported a recent expansion in mission that will enable the Home Trust to own and manage affordable rental property.
Moving into the lower income levels of the rental market moves the Home Trust closer to its roots in the civil rights movement, for one thing. For another, the world has changed since the financial crisis. The market has turned to rental.
To respond to the need for affordable rental housing, in 2013 I asked the mayor to appoint a committee to recommend new policies and solutions. This committee rose to the challenge. Some of our recommendations, all of which were embraced by the Council, included the establishment of a new housing advisory board; the dedication of a penny of the tax dollar to affordable housing; and the hiring of a housing professional well versed in the financial world of developers.
At the top of our list was a suggestion to partner with DHIC, a Raleigh-based housing nonprofit with a strong track record of producing quality low-income housing tax credit developments. As a result of that partnership, we will soon have 149 new units of rental housing available to people with income levels ranging from 0-10 percent of the area median income (which would include people with disabilities and people emerging from homelessness) up to 60 percent. Sixty-nine of these units will be age-restricted to persons over 55.
The timing and placement of this project was another example of silo-breaking. Already in progress when this idea emerged was the planning for the Ephesus-Fordham form-based code district. Also in progress was the work of a committee to recommend alternative uses for underutilized Town properties. These discussions converged, and the Council agreed to donate 9 acres of land at the northern end of the district to DHIC. These apartments will contribute substantially to our affordable housing goals within the Ephesus-Fordham district.
More nonprofit partnerships are going to have to be the solution to creating affordable rental units, because the amount of subsidy needed to reach such low income levels is far greater than a for-profit developer can handle. The DHIC partnership offers a useful model.
The Library. On the ballot in 2003 was a bond referendum to authorize an $18 million expansion of the Chapel Hill Public Library. The financial crisis postponed the project for a few years, but the result was worth waiting for. Serving on the building committee, I worked to ensure that the resulting building was a beautiful expression of civic architecture. (For I'm old-fashioned enough to believe in the value of well-designed civic space.) Today I'm even prouder of how well the Library serves the whole community. Have you seen the Circulator?
The arts in community. In 2003, the Town had just enacted a percent-for-art ordinance: one percent of each capital project undertaken by the Town is to be spent on art. Last month, the percent-for-art project at the Public Library was recognized for excellence by Americans for the Arts. The Town's arts mission, meanwhile, has expanded in ways that I've been proud to advance. In 2016, I worked with the Cultural Arts Commission to produce the Cultural Arts Plan that the Council adopted. Goal No. 1 speaks to broad community empowerment through cultural and artistic opportunity, and that intent gets to matters of equity:
Cultural equity embodies the values, policies, and practices that ensure that all people—including but not limited to those who have been historically underrepresented based on race/ethnicity, age, disability, sexual orientation, gender, gender identity, socioeconomic status, geography, citizenship status, or religion—are represented in the development of arts policy; the support of artists; the nurturing of accessible, thriving venues for expression; and the fair distribution of programmatic, financial, and informational resources. (Americans for the Arts)
This kind of work is beautifully exemplified by the Marian Cheek Jackson Center for Saving and Making History. A project that started as a UNC APPLES service learning course and still retains some of that leadership, including Hudson Vaughan, the Jackson Center was launched with oral histories. Northside residents saw the mirror held up to themselves in these histories, numbering now more than 150. In building up an archive they built a foundation that reinforced their own self-worth, strengthening the social capital that would allow them to speak clearly in Town Hall about what's a stake and why the Town should invest in the neighborhood's future. Such work has many models–Mindy Fullilove, for one, has a lot to teach about the "urban alchemy" that melds meaningful storytelling and community wellbeing–and it will go on in Northside and other venues.
This past year I chaired a committee to investigate the possibilities of creating a new Town museum (and possibly visitor's center) in the old Town Hall. The kind of museum this committee recommends is a community-engaged cultural space, one in which explorations of our past would inform and frame contemporary conversations about our future. Field trips to the City of Raleigh Museum and the Durham History Hub inspired our thinking.
The cultural arts agenda remains unfinished, but the interest is strong and a road map is clear.
A conclusion, by way of Rock Mount. Because Allan Gurganus has spent his writing life cultivating communities of writers, one topic of his celebration was the notion of writing in community. Matthew Martin, whose debut novel Hide won this year's Crooks Corner Book Prize, invoked Dr. King's notion of the "beloved community" as an entire society based on justice, equality, and love. "It's where we fight for justice for us all," he said. "It's connecting people in different struggles with each other, where we understand that issues of mountaintop removal are connected to issues of racial justice no less than to environmental protection."
It's where, we might add, we understand that issues of housing affordability are connected to access to neighborhoods, to good schools and parks; that food insecurity is connected to the lack of a living wage, or housing, or transportation, and crucially to immigration policy; that a thriving public library is connected to literacy and to access to the internet while it also serves as the heartbeat of our highly educated, highly networked community; and so on. It's about the way we interact with each other, "bringing our full selves to the struggle," as Martin put it.
What's true for writers is true for all of us. Although I'll be stepping down from my seat at the dais in December, I'll remain involved in the good work of this beloved community that it has been my absolute joy and privilege to serve.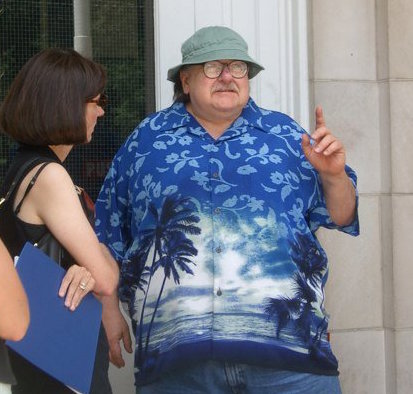 Former Town Council member Joe Herzenberg, imparting valuable advice as I'm about to launch my first campaign, in 2003, in front of the Old Post Office (not yet Peace called and Justice Plaza).
2 Comments