Rendering accountability
POSTED ON February 20th, 2017
No man is an island, entire of itself; every man is a piece of the continent, a part of the main. If a clod be washed away by the sea, Europe is the less, as well as if a promontory were, as well as if a manor of thy friend's or of thine own were: any man's death diminishes me, because I am involved in mankind, and therefore never send to know for whom the bells tolls; it tolls for thee.
–John Donne, Meditation XVII
We are caught in an inescapable network of mutuality, tied in a single garment of destiny. Whatever affects one directly, affects all indirectly.
–Martin Luther King Jr., "Letter from a Birmingham Jail"
People who treat other people as less than human must not be surprised when the bread they have cast on the waters comes floating back to them, poisoned.
–James Baldwin, No Name in the Street
To little fanfare, the Town Council last week passed A Resolution in Support of the North Carolina Commission of Inquiry on Torture. The commission is shining a much needed light on North Carolina's role in the CIA's post-9/11 "extraordinary rendition" program to carry out "enhanced interrogation techniques." These mild abstractions, of course, shield us from more graphic descriptions of the brutal kidnapping of suspected terrorists and their subjection to unspeakable acts.
In December 2014, a redacted 500-page summary of the Senate Intelligence Committee's 6,700-page report on the CIA and torture was declassified and released. Notably, this report exposed CIA director Michael Hayden's misleading testimony on the extent and effectiveness of the torture program. It also validated what N.C. Stop Torture Now (founded in 2005) had been saying all along: that North Carolina was deeply implicated in this dirty work. At least 17 of the CIA detainees named in the report were secretly transported by Aero Contractors Ltd., an aviation front company based at the Johnston County Airport, just outside of Smithfield.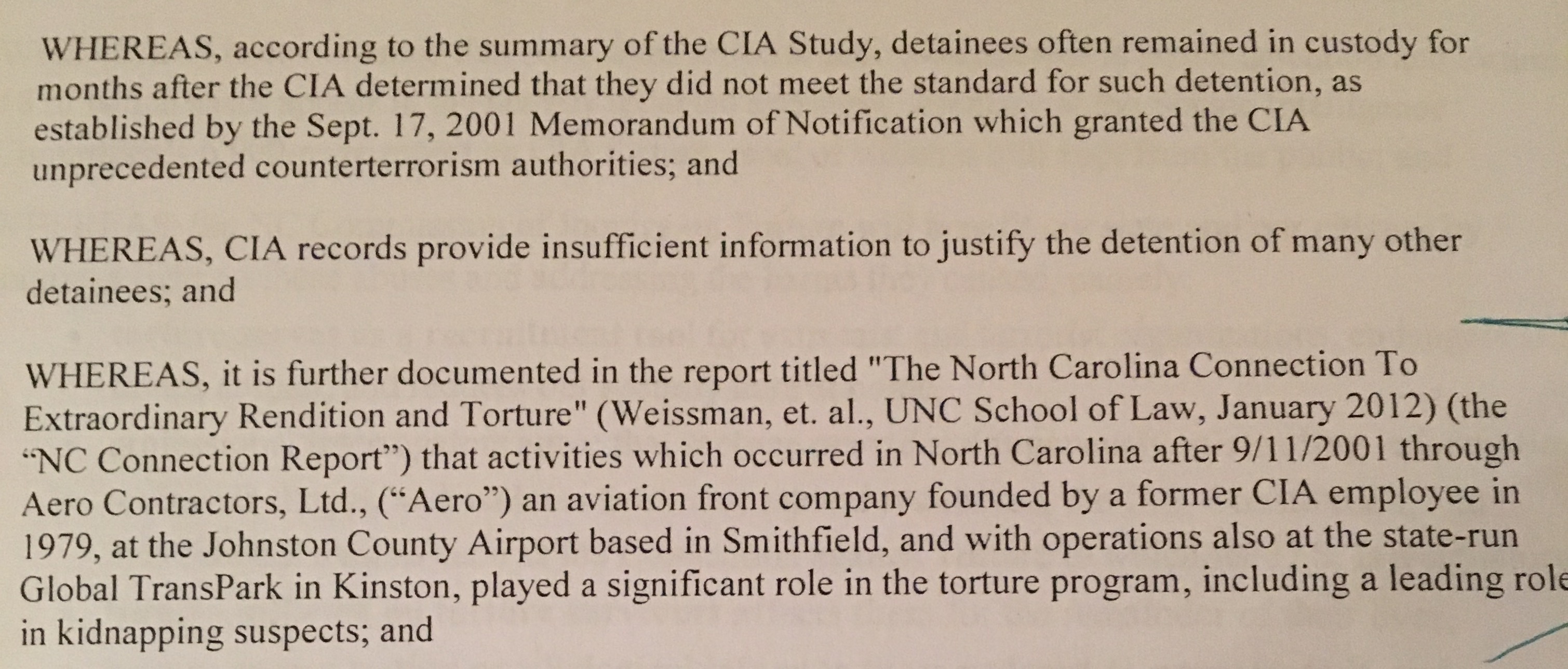 Thanks to research by journalists and human rights investigators, even before the report was released much was known about North Carolina's part in this program:
North Carolina has been extensively involved in torture in contravention to state, federal, and international law, particularly by sustaining key aviation infrastructure for extraordinary rendition at our public airports. The Johnston County Airport has hosted Aero Contractors since 1979, and Aero remains the airport's largest tenant. In 2005, the New York Times exposed Aero as "a major domestic hub of the Central Intelligence Agency's secret air service." Aero-operated craft secretly flew detainees to torture chambers in Jordan, Egypt, Syria, Afghanistan, Morocco, and Libya. They also repeatedly visited the CIA black sites in Poland and Romania where torture was performed directly by U.S. officials. Documentation was supplied to public officials and the media in this 2012 report.

NC-based planes and crews played key roles in the CIA rendition program. One of the planes operated by Aero (N379P) was a Gulfstream V jet nicknamed the "Guantanamo Express." For a critical period during the height of the rendition program, Aero also operated a Boeing business jet (N313P) from a hangar it built at the Global TransPark in Kinston. Together, these two aircraft conducted dozens of missions in which incapacitated detainees were taken secretly to prisons where they were held indefinitely and without access to lawyers, family, or the Red Cross. There, they were interrogated using torture. Highly skilled pilots and crews operated and maintained these aircraft, likely with full knowledge they were working for the CIA. The names of several of the pilots have been in the public record for many years.

Many of the detainees transported to torture by Aero were clearly innocent, were never given due process, and were profoundly damaged. Those who survived still suffer deeply. This includes Khaled el-Masri, a German citizen of Lebanese descent; Abou ElKassim Britel, an Italian citizen of Moroccan descent; Binyam Mohamed, a UK legal resident of Ethiopian descent; Khaled al-Maqtari, a Saudi national detained in Iraq; and many more. These men were subjected to brutal treatment. They were strung up in painful stress positions for long periods and endured vicious beatings including to their genitals and torso. They suffered prolonged detention in complete darkness, or were bombarded with blasting sounds. So far, human rights investigators have documented that over 135 persons were subjected to extraordinary rendition. Over 30 of these people – and probably many more – were rendered on flights originating at Smithfield or Kinston, NC, as documented by flight logs and other data here.
Sen. Richard Burr, who became chair of the Senate Intelligence Committee in January 2015, refused to hold hearings on it, dismissing it as a smear upon the Bush Administration.
What the Town Council had for its consideration last week was "The North Carolina Connection to Extraordinary Rendition and Torture," an impressive report produced in January 2012 by the Immigration/Human Rights Policy Clinic of the UNC School of Law, headed by Professor Deborah Weissman. Relying on hundreds of documents, including U.S. government materials, investigative reports from international sources, and public information on activities at the airports in Smithfield and Kinston, the report lays out facts that should give any North Carolinian pause.
Consider, therein, the affidavit of Abou Elkassim Britel. A Moroccan native and Italian national, Britel operated a business of translating Islamic books into Italian. On a business trip to Pakistan in 2002, he was detained, accused of being a "terrorist fighter": he was beaten, deprived of sleep, hung up from the walls or ceiling of his cell, denied access to a toilet, and told that the women in his family would be raped. After giving a false confession, he was interrogated by U.S. intelligence agents and told he would be returned to Italy. Instead, he was handcuffed, blindfolded, and taken to an airport, where he was dragged on board Aero Corporation's Gulfstream V and flown to Rabat, Morocco. He spent eight and a half months imprisoned in a notorious secret detention center in Temara, in complete isolation, subjected to more torture. Then he was released, with no charges brought against him, and no explanation.
Difficulties in returning to Italy ensued, however, and on May 16, 2003, when bombs exploded in Casablanca, Moroccan authorities included him among the suspected terrorists and he was returned to prison. He was convicted in 2003. In 2006, after a six-year investigation, his case was dismissed by an Italian judge, who found no evidence of any criminal activity; but he was not released from Moroccan custody.
In 2007, Britel was one of five torture victims named in a case brought by the ACLU against Jeppsen Dataplan, a company that facilitated the flights that Aero and others operated. The Justice Department intervened to argue that the very subject matter of the complaint fell within the "state secrets" doctrine. After two appeals, the case was dismissed.
Britel was finally released in 2011, following a pardon from the King of Morocco, but after 11 years of torture and imprisonment, he suffers serious physical and psychological damage, including permanent damage to his left eye and ear.
In another impressively researched document, Professor Weisman's UNC law students have made the case for public official apologies to Britel from Pakistan, Morocco, Italy, the United States, "as well as from key international, national, state, and local actors" bearing some responsibility for his fate.
State and local actors? What responsibility do Johnston County officials have, when they permitted and regulated Aero's operation with presumably no idea what it was really up to? It's a reasonable question–and yet Professor Weisman's primary report also calls out those local officials, alleging that Aero Contractors "could not have carried out its role in extraordinary rendition without the support of the state and its political subdivisions."

As a local official who regularly makes all kinds of land use decisions, I cannot help seeing myself here. I am "caught" in the "inescapable web of mutuality" that Dr. King talked about: indeed, we all are.
The petition for our support of the North Carolina Commission of Inquiry on Torture did not ask us to have known what we did not know. It asked us to act on what we do know. It asks us to raise our voice, to share in the call for accountability for the horrific deeds that were done in our name.
In passing this resolution last week, the Chapel Hill Town Council joins Durham, Carrboro, Orange County, and the Episcopal Diocese of North Carolina in condemning the use of governmental power in furtherance of the commission of torture. Thanks as always to Margaret Misch, local activist and a member of the board of the North Carolina Commission of Inquiry on Torture, for urging us on.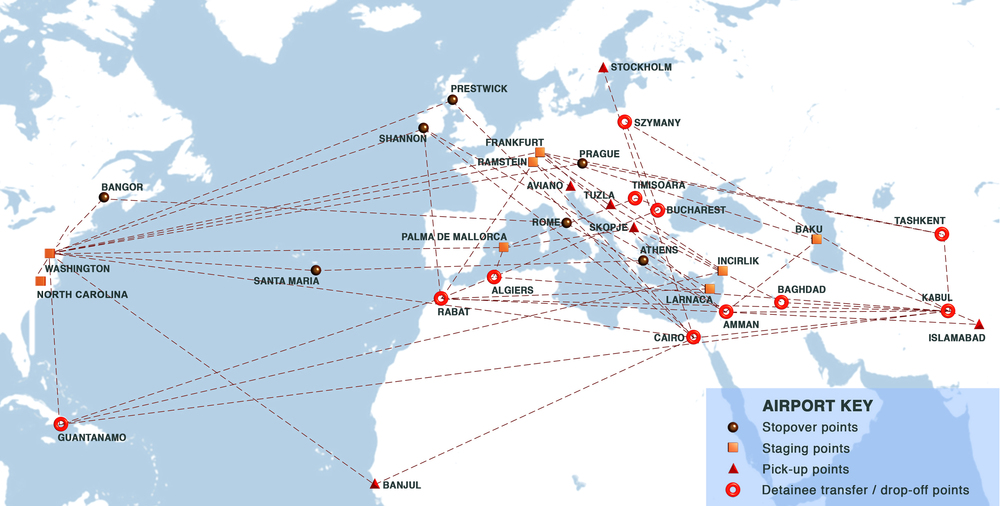 (Image: nccit.org/background/.)