Hearts breaking open
POSTED ON February 28th, 2015
For such a short month, February laid a tall order of hurt upon us. Three beautiful young adults were killed in cold blood, in their home. One was in dentistry school at UNC. His bride of six weeks was planning to enroll in the same program in the fall. Her sister was a design student at NCSU. Contrary to what was said in the Boston Globe–that "a man gunning down three people in cold blood is a remarkably unexceptional event in modern America"–it was surely an exceptional event in this peaceful college town.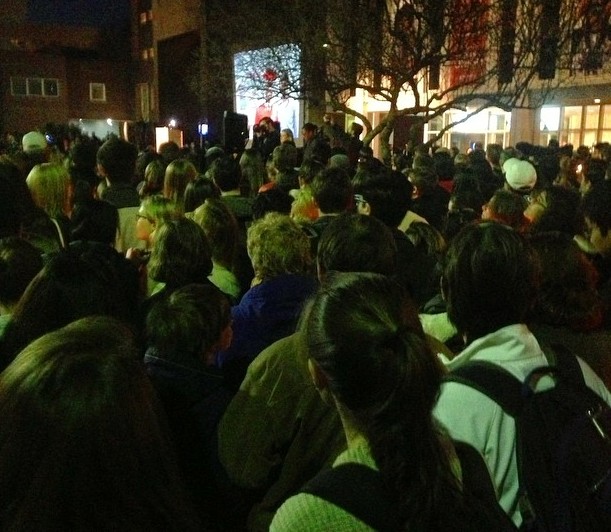 That the slain were Muslim Americans, and that their assailant was a white man whose home would be found to contain a dozen firearms and a lot of ammunition, raised such a fury of questions that, within hours, #ChapelHillShooting was trending at the top of Twitter feeds around the world. Was the senseless murder of Deah Barakat, Yusor Mohammed Abu-Salha and Razan Mohammad Abu-Salha a hate crime? With abundant evidence that Craig Stephen Hicks took petty anger to extreme heights, did he really take three lives because of a parking dispute? With stronger gun laws, would the outcome have been different?
The investigation will take longer than we like. All we have now are questions, and heartbreak. What seems clear enough is that to be Muslim in Chapel Hill, like anywhere in the United States, is to live in constant and palpable fear. It seems that when it comes to the dynamics of global politics, and religious prejudice, and guns, we are not so exceptional after all.
Three days before the murders, Coach Dean Smith succumbed to a long illness, just shy of his 84th birthday. In the opinion of one friend, the two events should not be spoken of together. One was an incomprehensible tragedy of geopolitical dimension. The other was the inevitable death of a good man, sad but inevitable, hardly tragic. To link the two, to his mind, suggests a crass provincialism, call it a Chapel Hill-centricism, that, effectively, insults the magnitude of this heinous crime.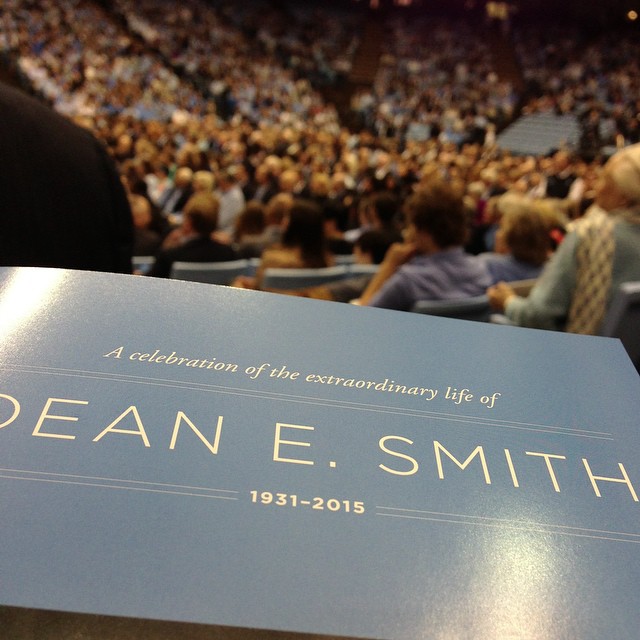 But I don't agree. The death of Dean Smith marks the end of an era, to be sure. With UNC's athletic scandals in mind, my friend Fred Hobson suggests that the era was already over (the unquestioned integrity of his coaching career serving as counterpoint, and rebuke, to current events). The more we learn about Coach Smith's remarkable story, though, the more clearly it speaks to who we are, where we are as a community, and where we might find inspiration in a dark time. Reflecting on the arc of his life just might help us think about how to be, and how to act, right now.
Called "perhaps the most visible white anti-racist of the last half-century," Coach Smith used his position as a platform for creating social change in a time when to do so could put your reputation and your personal safety at risk. He had a role model. In Emporia, Kansas, Coach Smith's father, a high school teacher and coach, integrated the school's basketball team and led it to a state championship. This was 1934. Smith, only three years old at the time, claimed he didn't know where his father's courage came from, but went on to say, "I do know how we were raised."
As star quarterback on his high school football team in Topeka in the late 1940s, Coach Smith vocally challenged the school's segregated basketball program. Recalled a black basketball player from the school, "He was not the kind of guy who was going to yell into a megaphone from the rooftops, but if he saw something he thought was wrong, he'd use the platform he had to try to fix it."
Coach Smith brought his dedication to civil rights to Chapel Hill, where he began his coaching career in 1958. Here, he got involved with Binkley Baptist Church, a new church founded as a multicultural worship community committed to the Christian ethos of equality and inclusiveness. He formed a lasting relationship with the Rev. Robert Seymour. It was Rev. Seymour who suggested that he recruit a black player to the Tar Heel team, an effort culminating in the recruitment of Charlie Scott.
One night during the summer of 1962, he and Rev. Seymour brought James Forbes, a black theology student, with them to eat at The Pines, an elite white restaurant notoriously resistant to integration. They were served without incident, and in later years, observes Barry Jacobs in Across the Line, Coach Smith wrote about it with characteristic modesty ("some reports have made it sound like I personally integrated every restaurant in Chapel Hill!"). But the reality is that The Pines was about the toughest place to try such a thing, and their willingness to serve a basketball coach, a preacher, and his student did not ensure lasting victory. During the holiday season of 1963, as John Ehle writes in The Free Men, a first-person account of the battle for civil rights in Chapel Hill, a biracial group of protesters tried the same move and were thrown in jail. This act set off a wave of other sit-ins and protests, with many accompanying incidents of violence, including demonstrators being doused with bleach and ammonia.
Perhaps no subject better demonstrates Coach Smith's commitment to acting on his progressive beliefs than his lifelong opposition to the death penalty. As we learn from The Nation, he
never hesitated speaking truth to power. This was never clearer than in 2003 when Coach Smith was part of a delegation visiting North Carolina's governor Jim Hunt, pleading for the life of a mentally ill death row prisoner named John Noland. Smith had met Noland on one of his trips to "the row." As reported by Bonnie DeSimone of the Chicago Tribune, Smith erupted at Hunt, saying, "You're a murderer!" He then stuck out his finger at Hunt's apparatchiks saying, "And you're a murderer—and I'm a murderer. The death penalty makes us all murderers."
A student of philosophy who participated in the intellectual life of the university, he also protested against the Vietnam War, campaigned in favor of a nuclear freeze, and supported gay rights. His successes on the basketball court gave him the megaphone he needed in order to spread his advocacy far and wide, justly earning him the Presidential Medal of Freedom. But the example of his active engagement with the community right outside his doorstep is what we can learn from, here and now.
I tell you this

to break your heart,

by which I mean only

that it break open and never close again

to the rest of the world.
(from Mary Oliver, "Lead," New and Selected Poems, Vol. 2)
With Dean Smith's life as our model, let our hearts break open as we live into the world that is ours after the deaths of Deah Barakat, Yusor Mohammed Abu-Salha and Razan Mohammad Abu-Salha.