Accomplishments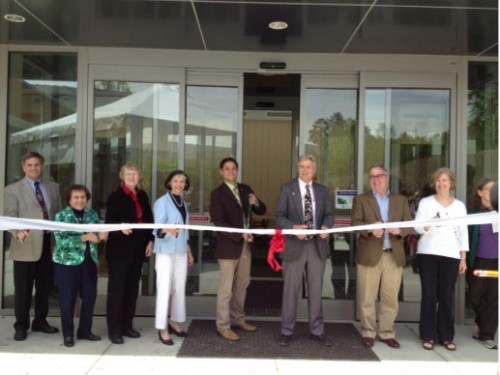 Chapel Hill 2020, the Town's comprehensive plan, stresses the need to minimize sprawl, support comprehensive public transit, broaden our housing options, attract and support successful businesses, and preserve established neighborhoods and the quality of life we all enjoy. These are goals that I championed throughout my service on the Council.
During my third term, I worked especially hard to advance the following goals:
1. Increase the supply of affordable housing.
In March 2014, the Council adopted an affordable rental strategy, an outcome of a committee that I suggested and co-chaired. Quantifying the great need for rental units affordable across the spectrum, the strategy identified short-term, intermediate, and long-term goals. Venturing beyond rental housing, the strategy recommended setting aside recurring funds to support affordable homeownership as well as rental units.
As a result of effective community advocacy, beginning in 2014-15, the adopted budget annually allocated roughly 1 percent of the tax dollar–around $700,000–to affordable housing. In the budget for 2017-18, continuing advocacy combined with continued identification of need resulted in a dedication of $1.16 million to this recurring fund.
Key to all of our affordable housing strategies are partnerships. The first concrete outcome of the affordable rental strategy, for example, is a low-income tax credit housing project being built by DHIC of Raleigh on a parcel of town-owned land, for which DHIC secured very competitive tax credits in August 2015. This funding is for Phase 1 of the project, Greenfield Place, 80 units of housing for families and individuals making up to 60 percent of the area median income. (Chapel Hill's AMI for a family of four at that time was $67,000.) In August 2016, DHIC secured tax credit financing for Phase 2, Greenfield Commons, 69 units that will be age-restricted to those over 55.
Representing the Council on the board of the Community Home Trust and the leadership team of the Orange County Partnership to End Homelessness, and as liaison to the Council's Housing Advisory Board, I was actively involved in refining and implementing our affordable housing strategies and working to create and strengthen partnerships. These activities extend to what is sometimes, but problematically, called "workforce" (non-subsidized low-income) housing.
2. Reduce barriers to reentry.
One in five adults in North Carolina has a criminal record. Chapel Hill is not immune from the effects of unnecessarily harsh barriers complicating these citizens' reentry into productive society.
Following upon the Town's decision in 2012 to "ban the box" (where criminal records are indicated) on initial job applications, other steps are critical to helping people overcome their histories. As a next step, and with the advocacy of the North Carolina Justice Center and local public defenders, the Town revised its overly restrictive policies regarding public housing admissions and evictions. And in November 2015, the Town revised its hiring policies to make it clear that the background check does not occur until after an applicant has been recommended for a position, and that the potential employee has an opportunity to put the criminal history in context.
3.  Promote downtown Chapel Hill as a signature cultural arts destination, and more.
In Orange County, the nonprofit arts and culture sector generates $130.3 million in economic activity. And the arts promise more than economic impact. My vision for the arts in Chapel Hill extended to expanding its role to connecting and fostering healthy neighborhoods and strong communities. Though the potential of the arts to build bridges and to increase participation in civic life is something we have not fully tapped, exciting efforts are in the works.
In 2016, the Public Arts Commission was renamed the Cultural Arts Commission, to reflect an enlargement of its scope. I advocated for this change as well as for the adoption of the ambitious Cultural Arts Plan that the Commission brought forward, after much hard work, in June 2016.
A foundational step toward realizing a vision for our downtown as a cultural arts destination was made with the adoption of Downtown Imagined. This project catalyzes an idea the community has long held: a two-street downtown. Together, Franklin and Rosemary can become a revitalized and distinctive arts destination. The University of North Carolina, with its front door on Franklin Street, is our key partner.
The community's interest in downtown cultural space is also reflected in the West Rosemary Street Development Guide, which sets forth the Town's vision for a vibrant streetscape adjacent to the Northside neighborhood. Among the needs and wishes identified is a cultural space in which to "celebrate and honor" the neighborhood through artistic expression.
In 2016-17, I chaired a community committee to evaluate whether the Historic Town Hall, at the corner of West Rosemary and Columbia streets, could be adaptively reused as a town museum/cultural center and/or visitors center. All manner of intriguing possibilities were discussed, and our recommendations were compatible with all of the ideas above. The Council adopted the recommendations of our committee to retain the Historic Town Hall for civic use and to continue exploring this possibility.
I'm proud of the work we've done together since my first election in 2003 to build a healthy and vibrant Chapel Hill. Thank you for the privilege of serving you.
–Sally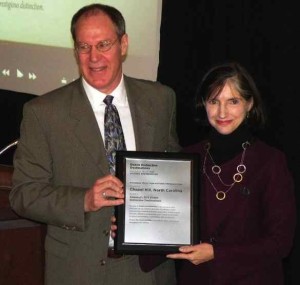 In February 2011, the National Trust for Historic Preservation named Chapel Hill one of its Dozen Distinctive Destinations.
It was Sally's honor to accept the award for the Town.