Gap day
POSTED ON March 26th, 2017
On Thursday, I spent much of the day thinking about food–not so unusual, perhaps, for someone who eats. The course of my day, however, offered chances to really think about how food circulates in our community. I was left pondering gaps: gaps in access to nutritious meals, gaps in information and understanding, but also new opportunities to support our local food economy.
First, I "helped" (rode along with) a volunteer with Chapel Hill-Carrboro Meals on Wheels as she ran her circuit to deliver the sustaining gift of a daily meal. My driver was a "stay-at-home mom" (her description) whose husband works in the financial industry. I asked her what inspired her to volunteer. Turns out her husband's job had taken their family to India for two years, just before moving here, and she got used to helping the poor. Her own children were in a private school. She helped identify four local children of better than average intelligence and encouraged them to apply to the school. Once they were admitted, her family saw that the tuition was covered: $200 a year. She knows that a little can mean a lot.
Our route took us to apartments in East 54, Meadowmont, and Glen Lennox; then into two apartment complexes off of U.S. 54; then to an apartment, a home, and a trailer on S. Greensboro Street. Not everyone opens their door when the knock comes. That seems to be their protocol. Others are happy to chat; it might be the only other person they see all day. The liveliest conversation was with a 101-year-old woman who lives alone. She had been concerned about the woman across the street, who had gone missing for a couple of days, without notifying Meals on Wheels or anyone. It turns out her daughter had taken her away for a couple of days for her birthday.
So it seems Meals on Wheels fills more gaps than the nutritional. This recurring human connection may be a person's only contact with the outside world. I thought about my Chapel Hill friend who raced to South Carolina the other day because after two days his mother hadn't answered the phone. She was fine. Her phone, however, was lost. (Then found, in the front yard.)
This month is March for Meals month, when Meals on Wheels programs across the country reach out to their communities to build support. It's a special season for the Chapel Hill-Carrboro Meals on Wheels, since it is celebrating its 40th anniversary.
These folks serve more than 43,000 meals a year to 270 clients. The main courses are prepared by K&W Cafeteria, with volunteers contributing desserts. Dietary restrictions and some personal preferences are accommodated. It's quite a feat of organization, and it all looks so easy. While much has been made–rightly–about the omission of federal funding for Meals on Wheels in the President's proposed budget, the local program operates independently of federal funds. Individual contributions comprise the largest share of the budget, at 28 percent. Please consider adding your support to this essential gap-filler in our community.
Thursday evening, I had the privilege of welcoming folks to a community forum held by the Orange County Food Council, of which I am a member. Launched a year ago, this policy and advocacy organization is working to build partnerships and coordinate action with respect to food access and nutrition, the sustainability of the farm economy, and related policy issues. The goal is a socially, economically, and environmentally just food system that provides safe, culturally appropriate, and nutritious food. The Orange County Food Council joins a movement of food policy networks springing up at local, state, and regional levels.
Working from a baseline community food assessment that was created last year, the Food Council's current focus is to reach out to strengthen connections among organizations already working in these areas and to start to build supportive networks. The topics of this forum were food access gaps and the local food-farm economy.
Implicitly, the people attending this forum understand what Wendell Berry pointed out years ago: that "eating is an agricultural act." Whereas "most eaters," he writes, "think of food as an agricultural product, . . . they do not think of themselves as participants in agriculture." Rather,
[t]hey think of themselves as "consumers." If they think beyond that, they recognize that they are passive consumers. They buy what they want—or what they have been persuaded to want—within the limits of what they can get. They pay, mostly without protest, what they are charged. And they mostly ignore certain critical questions about the quality and the cost of what they are sold: How fresh is it? How pure or clean is it, how free of dangerous chemicals? How far was it transported, and what did transportation add to the cost? How much did manufacturing or packaging or advertising add to the cost? When the food product has been manufactured or "processed" or "precooked," how has that affected its quality or price or nutritional value?
The answers to such questions are vitally important, and filling in the gaps of our knowledge is one of the Orange County Food Council's most important missions. Armed with such knowledge, those of us who have permanently taken up on the consumption end are better positioned to support our friends on the production end, as we work together to provide reliable food access to all of our neighbors while advocating for systemic improvements in the food economy.
For more information about the Food Council, please contact me or Ashley Heger, staff coordinator, by writing to ocfoodcouncil at gmail.com. I believe a couple of spots on the Council are still open, and non-member work groups are forming. There are many ways to get involved.
(The unsung hero of both of these activities was Binkley Baptist Church–home of Chapel Hill-Carrboro Meals on Wheels and host site for the food summit.)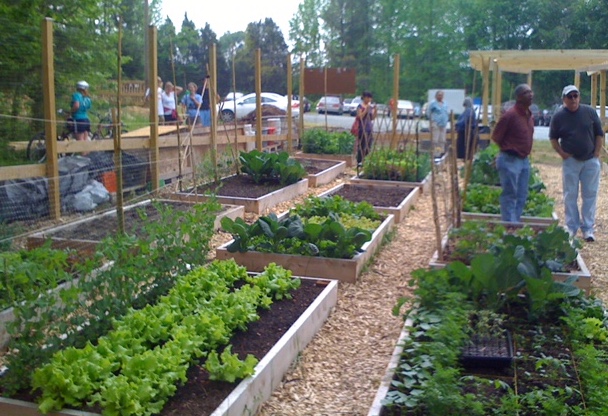 Dedication of HOPE Gardens, Chapel Hill, 2010