Don't miss the Open Studio Tour!
POSTED ON November 9th, 2017
If you missed it last weekend, treat yourself this weekend to a drive around the county on the Orange County Artists Guild's Open Studio Tour. In fact, even if you made it last weekend, it's worth another round, for who would have been able to take in all of the 73 studios that have opened their doors? So much creativity lives here!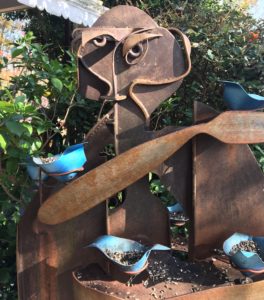 As county arts administrator Katie Murray has recently reminded us, the arts "mean business." In Orange County, the arts sector is a $130 million industry that employs some 5,000 people. Orange County punches well above its weight, in fact, with one survey suggesting we have five times the national average of working artists. For those who work in the visual and plastic arts, the Orange County Artists Guild provides its 129 member artists essential community support, from marketing advice to mentoring opportunities.
According to Judith Ernst, the Guild's chair, for many artists the Studio Tour serves as the primary means of showing their work. "The community is able to see what richness there is here," she said, "and the artists can make the connections to the art-supporters in our area who may become their collectors." Timed just before the holiday season, the Studio Tour is in all likelihood their best sales opportunity of the year.
The steady stream of visitors gives the artists a welcome opportunity to talk about their art. I can vouch for this firsthand. How great, for example, to get a tutorial from Ernst about the complicated, imaginative process she goes through to create her ceramic vessels, which are as much spiritual statement as physical presence.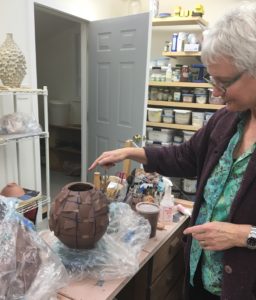 Seeing so much art on display in so many private venues underscores a point worth pondering: our community lacks sufficient exhibition space, and this is a problem not just for artists currently practicing but for others, particularly younger artists, whose energies are engaged with installation, idea, and performance art. "Until our community can figure out a way to support some kind of arts exhibition venue that is publicly subsidized," said Ernst, "we can't really enjoy art on the cutting edge, or for that matter, art by many young creative artists."
Affordability is a major barrier. Land prices can be out of reach, and zoning issues can complicate the opening of a studio. Rental space is also very limited and expensive. Those of us who've been working toward a more inclusive Chapel Hill, one that values the presence of creative people as part of a dynamic community, would do well to look for answers to this problem as part of the overall solution.
Something to think about as you drive around the county this weekend. Look for the orange and purple balloons.